Our son and his wife need to pack a million items when they're flying the 2,000 miles to bring their family to our home. Since diapers take up a lot of suitcase space, we happily provide the diapers and wipes at our home needed for the stay. Diapers aren't cheap, but it's one of the few ways I can make their trip at least a little bit easier for them.
I'm sure sure to get the exact size and brand of diapers and wipes the grandchild needs. It's easy-peasy: I ask the parent to send a digital photo of the diaper package and a photo of the wipes package to make it easy for us to buy the right items. If you've ever been faced with huge selections of diapers and wipes at stores, you know that finding the exact right product can be difficult. Having photos of the packages is a big help! By the way, I always buy the exact product and type! I don't even search for a bargain if it means a switch. Sometimes little ones have sensitivity to one brand or another so making the right purchase is important.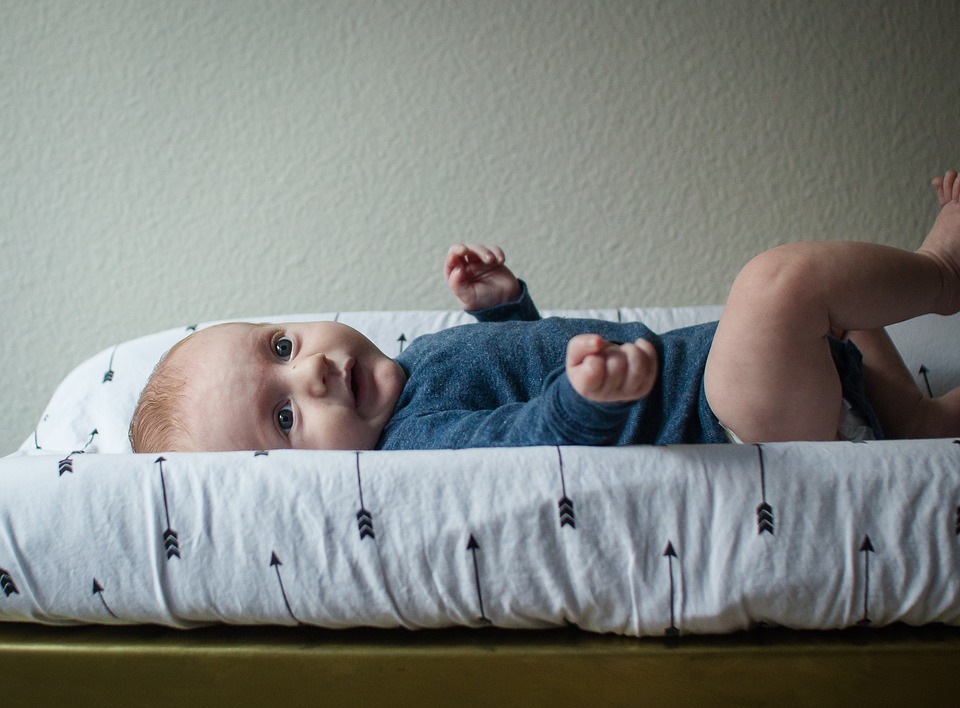 Diapers are often changed in the bedroom, but I also make a diaper changing station on the main floor of our house. Literally on the floor, in a corner of our family room! I don't like flat pads for changing an active baby. They can get away from me too fast! For around $20, I bought a contoured changing pad (like the one in the photo). It's the foam pad used on top of a furniture-type changing station and I think it helps keep a squirming baby or toddler stay put for the diaper change. Changing pad covers are nice to have, too, but I have also used my sheets or beach towels. I always have a few teethers or small toys at my changing station to help keep the baby or toddler content while I'm changing the diaper. Also, I find that belting out a Broadway tune keeps them a bit spellbound as I'm doing a quick diaper change.
As soon as the first grandchild was out of diapers, for their next visit we bought a potty chair for our house. I was glad we also bought a small step stool to have on hand because all of the grandkids quickly moved from using the potty chair to wanting to use the toilet. (They're growing too fast!)
Thinking about the sleeping arrangements for when the grands' visit? Visit my post for sleeping ideas.
Hey, fellow grandparent! I invite you to subscribe to this blog. You'll receive an email every time I post a new article. I don't share your email address with anyone, and you can unsubscribe at any time. Click here to subscribe.