You may be stuck at home far away from your grandchildren. But if you have some picture books at your house, you can help entertain and educate your young grandchildren — and stay connected to them. It took me a while — and a lot of fumbling around — to discover a great way to read books to my young grandchildren while we are Skyping or FaceTiming. Here's the method that's works for me: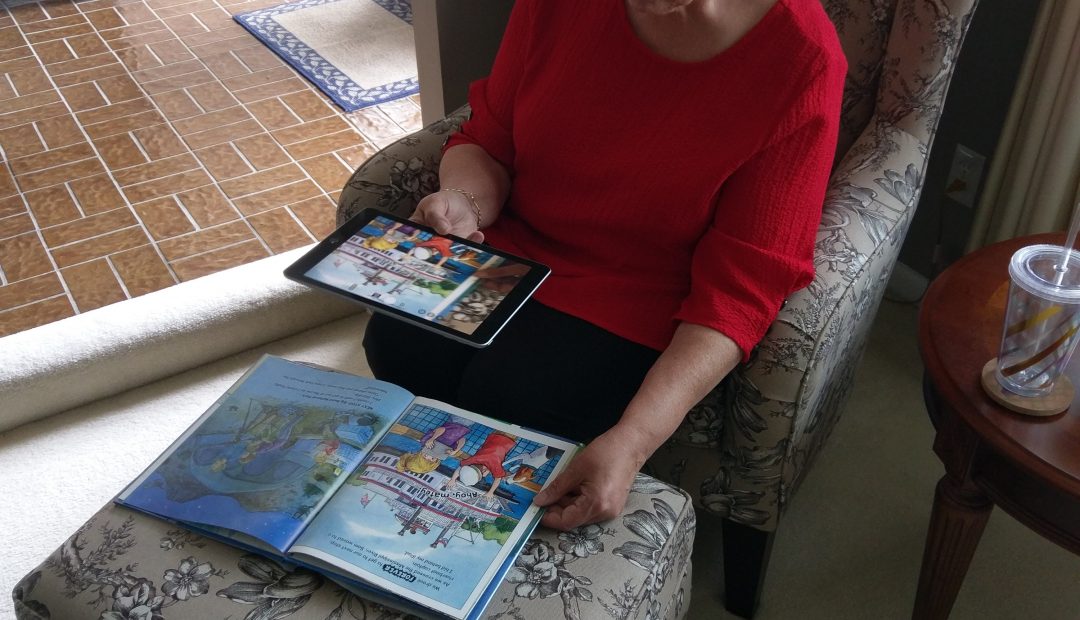 TIP: Don't hold the book.
Instead, as shown above, lay the book on an ottoman (my favorite way), coffee table, or other table. Then hold the iPad or other device over the book with one hand. Your other hand is used for turning pages during your video chat. Looking on your tablet, you can see at a glance what the kids are seeing. If you lean a bit, even with your device over the book you can see the page itself so you can read the words to the kids.
TIP: Know where your camera is on your device — and practice capturing the book page or part of the page!
Using the camera feature of your device, practice holding it over a book. Soon you'll get expert at capturing what you want.
TIP: Sometimes, show the whole page.
If what you're reading about is the entire page, then as shown below, show the entire page to your grandchild as you're reading that page.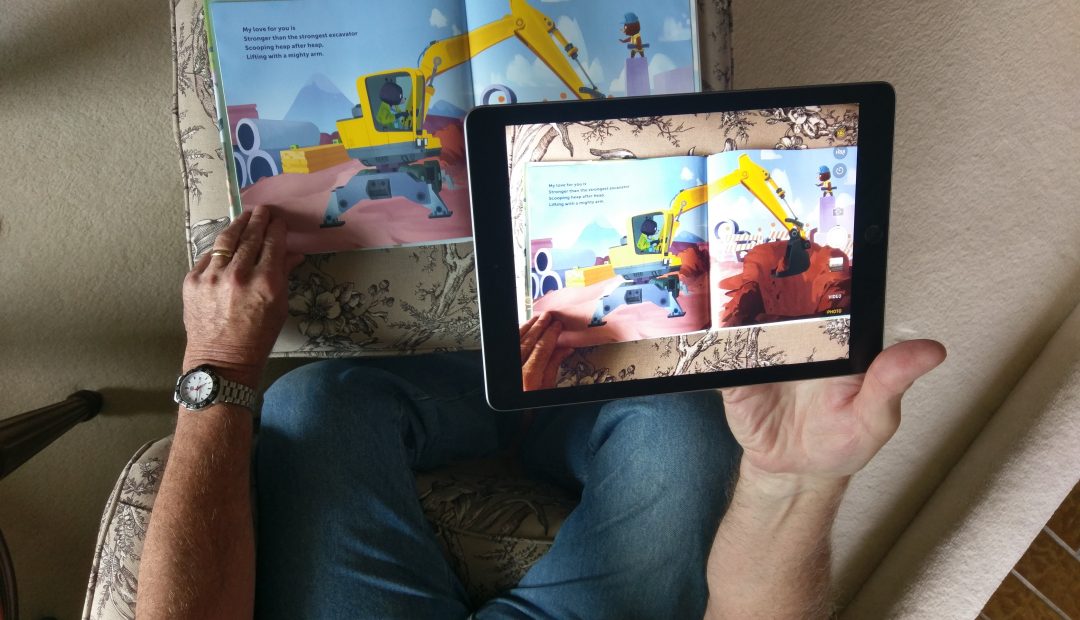 TIP: Often, zero in on the artwork that shows what you're reading about.
Book pages often show multiple things going on (photo below), for separate parts of the story. I move the iPad around and often move it closer to the page to capture the artwork for what I'm reading at the time.
I listen to the words I'm saying … and show the part of the layout that applies to that section. In the photo above, at this time I'm only holding the iPad camera over the bottom of the right page because that's the artwork for the words I was reading right then.
BTW, I also soon realized I did not need to show the printed words on a page while reading books. The little ones want to see pictures! Zeroing in on the artwork makes the book come alive more on their screen.
TIP: Practice!
Practice a bit with your device and a book before you start reading to your grandchild on Skpe or Face Time … but, really, kids are so forgiving of mistakes and awkwardness! You can easily try it out on them and they'll see you get better and better. Soon they will be asking you to read to them!
Want more ideas? Check out my other post about how to use mail and delivery to send love to your grands!
Have you tried reading to your grandchild on video chats? How'd it go? Please share — in the Comments section below.
Hey, fellow grandparent! I invite you to subscribe to this blog. You'll receive an email every time I post a new article. I don't share your email address with anyone, and you can unsubscribe at any time. Click here to subscribe.