We were there the day Sebastian was born, one year ago this month.
A week before his due date, we were on our scheduled flight, making our way from Ohio to Washington state. But we found out our daughter-in-love was in labor! I really wanted to tell the pilot to "step on it."
Sebastian waited until we got there to be born. (Actually he waited five hours after our arrival even though Mommy told him he could come out NOW, please!)
We stayed with this family of now six for the first six weeks of Sebastian's life, helping however we could. Our time with his three older siblings was wonderful!
Often Grandpa and I would be busy busy busy but then a magical moment would come. "Mom, do you want some baby time?" I look up and in the doorway is my son holding his new son. Yes, indeed, hand him over!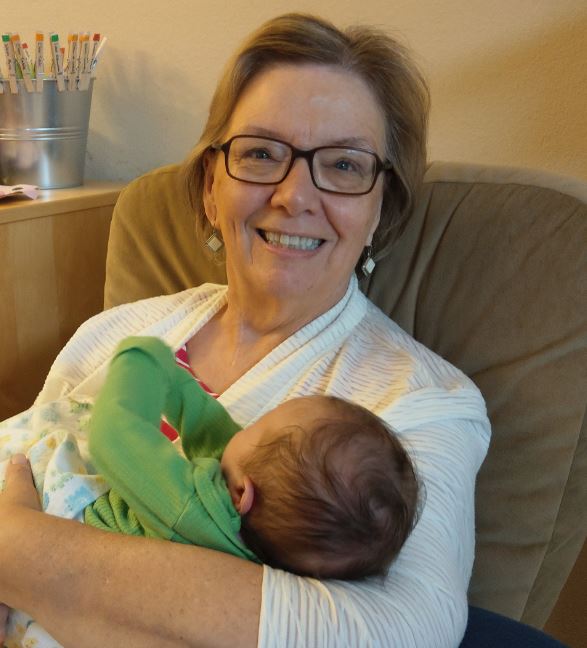 We were lucky enough to take more trips to Washington as the months went by. The last of those trips was an unexpected scheduling. In February, I said to my husband, "Let's go see the kids next month." We hadn't planned on going so soon — after all, we had just been there in January. But I just wanted to be there. Can't explain it.
Little did I know that March visit would be the last one for a long time as the pandemic rocked our world. We're still waiting to see them again.
Oh, I absolutely know we were incredibly lucky to be with Sebastian for 101 days of his life in his first year. But those 101 days were in August-March. We have not held him, kissed him, changed a diaper, or rocked him to sleep since March … and we were not there for his first birthday.
I am enormously grateful that our peach of a daughter-in-love makes sure we FaceTime with Sebastian almost every day. His face lights up when he sees us, and sometimes rocks back and forth to indicate he wants to hear one of our songs for him. We love seeing his smile and we nod knowingly whenever he tries to deliver some important news in baby talk. With FaceTime, we have seen Sebastian progress from being a "scooter" to a crawler and he is walking holding on, soon to venture out.
So being there on "THE day" isn't the most important thing.
But darn pandemic. (If I had a dollar for every time I said that phrase, I'd be a rich woman.)
Have you been there on the day a grandchild was born? Tell us more, in the Comments section below.
Please share this article with your friends using the buttons below. I really appreciate you spreading the word about my blog.